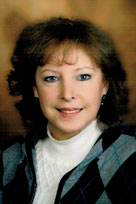 Susan H. Huffman
, CMPE
(Practice Administrator)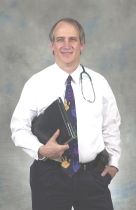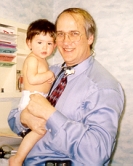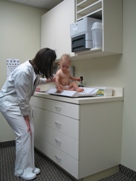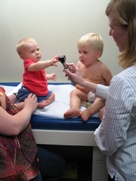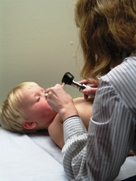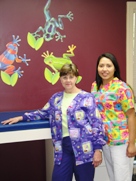 Unifour Pediatrics
... and Welcome to our web site!
** COVID-19 Vaccine & Your Extended Family ** PRINT
** COVID-19 Vaccine & Your Extended Family ** VIEW


Click on a head to go to specific clinician (above or in right margin)/em>

Unifour Pediatrics is a physician-owned primary care practice established to provide quality, comprehensive healthcare services to infants, children, adolescents and college-age youth ... your pediatric medical home.
.
Coronavirus (COVID19) OFFICE UPDATE
Protected Environment
in office
Televisits:
Learn about these
Videos and Info
about Coronavirus
Instructions, Span instruc
Protecting your family at home Instruction Video, Another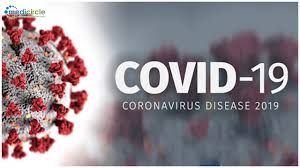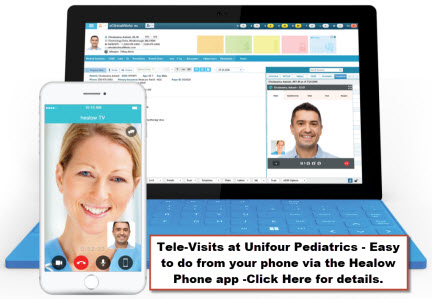 WE ARE STILL OPEN for IN-OFFICE Sick, Well, Injured or Behavioral visits

in a very protected OFFICE environment, with outside screening/check-in, no more waiting rooms -

stay in your car until being called directly back

to completely separate "well exam room" OR "sick exam room" areas. These AERIAL VIDEOS will explain all.

PROTECTED OFFICE: There are separate well and sick entrances with separate staff to see our patients in each of these areas. Before office entry, we are taking temperatures and asking screening questions about patients (and those that accompany them) so that (1) no sick persons enter the "well" areas, and (2) no known/suspected coronavirus patients or family members enter either section. Clinical questions and details are often asked over the phone while the family stays in the car.



WELL VISITS:

We are still seeing Well Checks in completely separate areas:
Newborn to 5 years: lower-level well child section, (aerial video),
5 through 21 years: upper-level "well-child" section, (aerial video)

SICK VISITS OPTIONS:
(1)

Non-infectious sick, injured, and most behavioral patients

are seen within the main upper office upstairs.
(2) ALL Sick patients with possible infectious symptoms are seen upstairs in one of the two 20x30' fully-equipped walled-canopies clinics outside, located in the upper parking lot. Those with cough, fever, achiness, etc. are seen outside in this safe protected environment for our staff and for other patients.
(3) Sick or exposed patients who are suspected of COVID-19 illness or have has close exposure are first seen by TeleHealth Visit, followed by a COVID-19 test sample obtained OUTSIDE under a small canopy in the far corner of the parking lot. (safely away from other patients and staff).



TELEHEALTH VISITS:

Yet another option are Unifour Pediatrics TeleVisits (like a secure real-time FaceTime bidirectional audio-video visit). CALL FOR AN APPOINTMENT 828-328-1118. We are here for you!



COVID-19 MASS VACCINATION CLINICS:

Will occur in Summer? 2021. These will be administered on Saturday and Sunday afternoons in the walled canopies outside in the upper parking lot. These are ONLY for our Unifour Pediatric patients

and not for others, and will

NOT be available until Summer 2021

(estimated time when the government will authorize this with a EUA certification for the pediatric age group, and when we reach that point in the risk/age staged roll-out of the vaccines.

Certified: We are now recognized and fully certified as a Patient-Centered Medical Home (PCMH) - Certification Level 3, the highest level currently available through the National Committee for Quality Assurance. We are also certified by Blue Cross Blue Shield (BCBS) through the Blue Quality Physician Program (BQPP), which focuses on Primary Care Management and certifies independent practices committed to providing high-quality outcomes, and low-cost, patient-centered care for BCBSNC members. Our in-house laboratory has also been certified as a moderately complex laboratory by COLA. Federal Meaningful Use Certification has also been achieved and consistently maintained. We are honored to be one of 18 pediatric primary-care practices in the country chosen by the National Institute for Children's Health Quality (NICHQ) for the Pediatrics Supporting Parents (PSP) study.



Scheduling Appointments: Telephone: 328-1118 during office hours.



Accepting Records Transfers: Download a Transfer Form:



Office Tours: available for expecting parents - meet our providers.



Hiring Additional Staff: Accepting Employment Applications



Questions about the Practice?

We will be glad to answer them.


- CALL (828) 328-1118 (Susan Huffman CMPE, Practice Administrator)
or (FAX) 328-1119.



Our History: Dr. Millsaps has continuously practiced primary care pediatrics in the Unifour area for the past 41 years and maintains full admitting privileges at Catawba Valley Medical Center. As of October 2018, all 15 general pediatricians in the county stopped seeing patients at Frye. This current pediatric office, opened in 2005, is designed to provide personal, comprehensive services, promote innovative approaches toward patient care, put more emphasis on patient education and preventative care, and allow more time for detailed coordinated management in complex clinical cases. In addition to Dr. Millsaps, we have now added nine more pediatric clinicians, carefully selected, all of whom share the common vision. Dr. Lynn B. Spees joined us in 2007 (and retired this February 2017), Dr. Brooke Lawrence Hata joined us in January 2009 (currently on extended leave), Dr. Richard M. Rheinbolt joined us in 2013, Dr. Barbara Colosimo joined us in 2015, and Dr. Elliott joined us in 2016. Our excellent Certified Pediatric Nurse Practitioners play an integral role in our practice. This represents over 180 years of combined clinical experience in pediatrics. In 2018 we embedded a psychology/counseling group within the practice (Crossroad Counseling) to help with specific needs of our patients. We also utilize embedded CC4C complex care coordinators to help link parents to resources, and nurses who help to coordinate care of complex patients. We encourage you to read our Guiding Principles to gain an insight into the importance we place on excellence in service, patient education, and continuity of medical care. Print out this PDF document for Helpful Information on Telephone Calls and Office Visits, Day-time and After-hours.



Consistent Availability: including weekend and holiday coverage.
- limited need for use of crowded hospital ER & urgent care facilities.
- extensive after-hours coverage via telephone & via WE/holiday urgent
care (sick children can usually be seen in the office 364 days/yr when
weather and staffing permits).



Clinicians:
- Our Board Certified Pediatricians:
- David M. Millsaps, MD FAAP (lead pediatrician of Unifour Pediatrics),
- Brooke Lawrence Hata, MD FAAP (currently on extended leave),
- Richard Rheinbolt, MD FAAP,
- Barbara Colosimo, MD FAAP, and
- William E. Elliott, MD FAAP.
- Our Certified Pediatric Nurse Practitioners:
- Sommer C. Clark, MSN CPNP, Karen T. Leasure, MSN CPNP,
- Lauren J. McFarland, MSN CPNP, Evina L. Nonato MSN CPNP,
- Nancy A. Witcher, MSN CPNP. and Ashley Cooper MSN CPNP.



Separate "Well-Care" Areas: We have a separate level of the office for
well children

ONLY

under 4 years age (and for immunocompromised
children) with a separate entrance, waiting rooms, exam rooms and
staff. Those 4 years and above are seen in the upper level, with
separate waiting and exam rooms for sick and well.



Office Hours: 8-5 M-F for regular day-time office visits.



After-hours urgent care - call first: weekends/holidays AMs.
- for urgent problems

call

at 8AM WEs/holidays or before 4:00PM WDs.



Excellent Unifour Peds Web Portal: (computer, tablet, smartphone)
- Providing access to us online, with all sorts of helpful information.
can also send you diagnosis specific patient education PDFs and
videos. Questionnaires are also available about our pediatric practice.
From a computer, you can print out documents for family members.



Excellent Unifour Peds Smart Phone Apps: (smartphone, tablet)
- Providing access to us online, with all sorts of helpful information. We
can also send you diagnosis-specific patient education PDFs and
videos. Download our Healow and Healow for Kids apps.



After-hours access by phone: with redundant back-up coverage.
- by Dr. David Millsaps, Dr. Richard Rheinbolt,
Dr. Barbara Colosimo, and Dr. William Elliott,
as well as Sommer Clark CPNP, Karen Leasure CPNP,
Lauren McFarland CPNP, Nancy Witcher CPNP,
Evina Nonato CPNP, and Ashley Cooper CPNP.


Pediatric Help Line

provides coverage (usually after 9PM).



Catawba Valley Medical Center: full admitting privileges:
- For full-term nursery: Dr. Millsaps,

Dr. Rheinbolt

,


and Dr. Colosimo, and Dr. Elliott,
- For NICU and pediatric unit hospital admissions:
we utilizing pediatric hospitalists/neonatologists.
- Catawba has well-run and well-staffed pediatric unit, full well-run nursery
and NICU ... with numerous awards for high quality of patient care,
caring nurses who are well trained and knowledgeable, and a hospital
and staff that scores well on patient satisfaction surveys, etc.



In-house laboratory: we perform 90+% of tests within the office.
- Most tests results are available before you leave the office.



Great Location: across from Catawba Valley Medical Center .



Coordinated care: with hospitals, our hospital team, & specialists.



Education & preventative care strongly emphasized - stay well!



Web-Site: with extensive educational materials and helpful links.



Reading/Literacy Programs: We actively support reading at early
ages through two excellent programs: (1) Reach Out and Read program,
where age-appropriate books are provided to children 6 months through
5 years at each well checkup (we are the ONLY pediatric office in the
county participating in this program, and (2) Dolly Parton's Imagination
Library program, where age-appropriate books are mailed monthly to
each of our patient's homes (birth through 5 years). If started at birth, this
currently means 73 high-quality books free for your child. We truly
believe in the importance of early childhood literacy!



Parks and Trails Programs

::

Unifour Pediatrics actively participates in
programs to get kids out and active on trails and parks. Access these
helpful programs that will show you great parks to go to in the area,
showing, for instance, details about 55+ parking in this county alone.
See our Unifour Pediatrics Outdoors Activities and Fun page, or click:
ParkRxAmerica.org/hickory (for example, Baker Mountain Park, River
Bend Park, Lyle Creek Greenway, Glenn Hilton Park, South Mountains
State Park, and many many others.
Or see ParkRxAmerica.org/boone or those in the nearly mountains.
Or see KidsInParks.com (for more distant parks).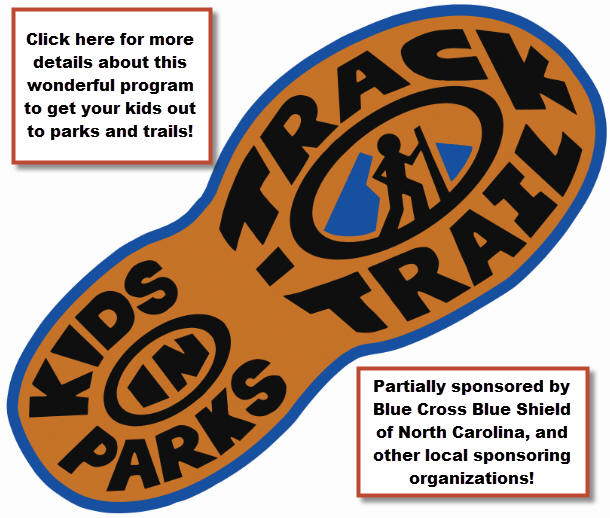 The Kids in Parks program has established a network of trails designed to provide kids and families with fun outdoor activities. Through their TRACK Rx program, our providers are promoting this program and formally prescribing our patients to get active outdoors and reconnected to nature through this exciting program. For more information about the program, click this link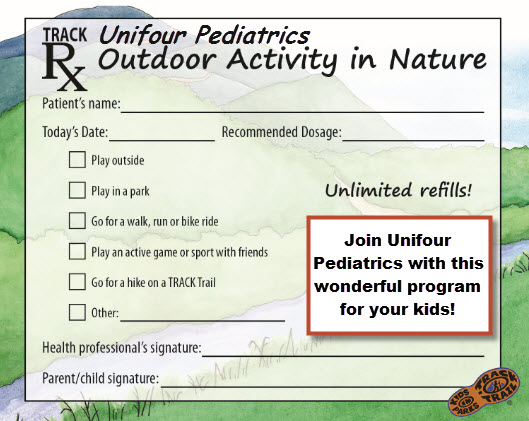 CALLING ALL PATIENTS! Join our staff and patients in counting steps and get active! We have divided into 2 teams and we are counting our steps daily and reporting them weekly. We are accumulating the total (2000 steps = 1 mile) and moving our "person" across the map to race across the country! Call our office and be placed on a team and start counting! Send a message of your weekly steps through our patient portal and be a part of the fun!


Programs promoting Responsibility, Self-reliance and Career/
Financial Success in Life ... for our child:
With the economic problems of our country, we realize that many
existing government entitlement programs and "safety nets" will likely
become a thing of the past. We are partnering with other organizations
to help maximize the future success of our children. As future
young adults who are heading off into life, we want to promote self-
empowerment in the following ways:

► stress the goals of educational success and the joy of learning,
► enthusiastic quest for knowledge and personal improvement,
► promote future financial success, independence, and self-reliance,
► encourage healthy role models and standards of behavior (see below),
► develop strong principles, character, honesty, ethics, and morals,
► encourage realistic goals in life, perseverance, and strong work ethic,
► grow up to fully understand that "we must all live within our means",
► learn early that budgeting is important - excess spending, borrowing,
or lack of forethought have both financial and personal consequences
(whether in an individual, family, business, city, or government),
► learn early that "drifting through life" with few goals or direction
usually results in poverty and fewer career options,
► learn early that early pregnancy, drugs, and alcohol complicate
matters, usually resulting in poverty and fewer career options,
► As you consider further children, be sure that you can responsibly
provide for them financially, and via your of time, love, and nurturing,
► become "contributing members of society", and not just "takers",
► nurture the desire to care for others, and for community participation,
► foster genuine desire for volunteerism, charity, and helping others,
► help develop healthy self-esteem, faith, excitement, and joy for life,
► avoid envy, a defeatist attitude, or a "victim" mentality,
► avoid patterns of blaming others, rather than accepting personal
responsibility incorrect decisions made in life,
► develop true respect for other individuals of all races/backgrounds,
► foster a love of our community and of our country,
► Parents are the main source of modeling behavior (see below),
► Quality parenting is IMPORTANT!



Children Learn What They Live, by Dorothy Law Nolte, Ph.D.

► If children live with criticism, they learn to condemn.
► If children live with hostility, they learn to fight.
► If children live with fear, they learn to be apprehensive.
► If children live with pity, they learn to feel sorry for themselves.
► If children live with ridicule, they learn to feel shy.
► If children live with jealousy, they learn to feel envy.
► If children live with shame, they learn to feel guilty.
► If children live with encouragement, they learn confidence.
► If children live with tolerance, they learn patience.
► If children live with praise, they learn appreciation.
► If children live with acceptance, they learn to love.
► If children live with approval, they learn to like themselves.
► If children live with recognition, they learn it is good to have a goal.
► If children live with sharing, they learn generosity.
► If children live with honesty, they learn truthfulness.
► If children live with fairness, they learn justice.
► If children live with kindness and consideration, they learn respect.
► If children live with security, they learn to have faith in themselves and
in those about them.
► If children live with friendliness, they learn the world is a nice place in
which to live.

Copyright © 1972 by Dorothy Law Nolte

If you wish to become "Web Portal Enabled", CALL our Office Staff (for computer Internet browser access, or with the our mobile phone App.)




Download this FREE "Healow" Mobile Smart Phone App (Apple or
Android) for convenient access specifically to Unifour Pediatrics!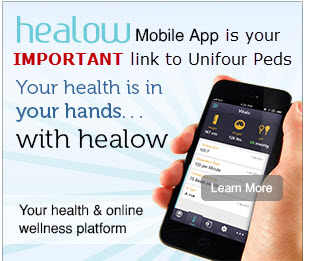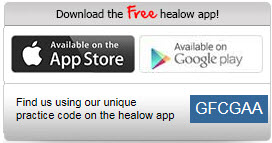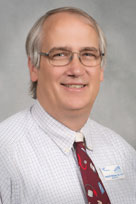 David Millsaps
MD FAAP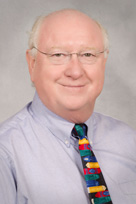 Richard Rheinbolt
MD FAAP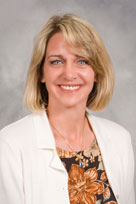 Barbara Colosimo
MD FAAP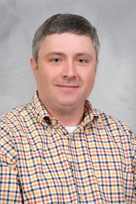 William Elliott
MD FAAP
Board Certif. Pediatricians:

Fellows of the
American
Academy of Pediatrics

and our Pediatric
Nurse Practitioners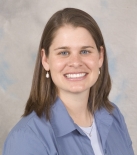 Sommer C. Clark
, CPNP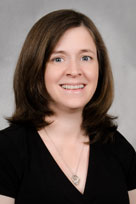 Karen Leasur
e
, CPNP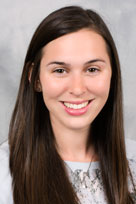 Lauren McFarland
,
CPNP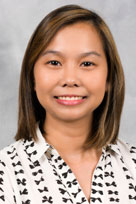 Evina Nonato
, CPNP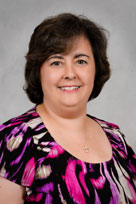 Nancy Witcher, CPNP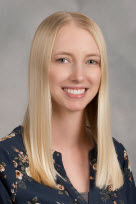 Ashley Cooper CPNP

Mission:
Unifour Pediatrics is a physician-owned primary care pediatric practice established to provide quality comprehensive healthcare services to infants, children, adolescents & college-age youth.